MultiControl services AB have over 35 years experience in management,upgrading,trials,audits and riskanalysis of most technical equipment onboard DP-vessels.
Eg:
DP-systems.
Thruster controllers.
Diesel electric plants incl. propulsion.
Computerized alarm/control systems.
Heave compensated offshorecranes.
High voltage safety work procedures.
Diving systems.
Hydraulic systems.
Regulations.
MCS have managed a number of different projects as consultant for different Norwegian Offshorecompanies. EG:DSND, Stolt Offshore, Subsea 7, etc.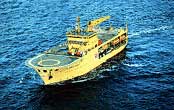 Links: